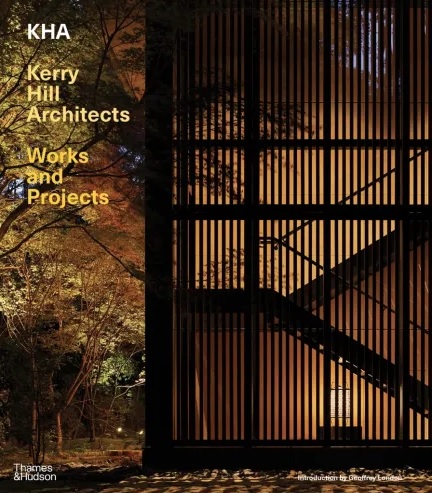 ---
Product Details:
by Kerry Hill (Author), Geoffrey London (Introduction)
Hardcover: 440 pages
Publisher: Thames & Hudson (August 2, 2022)
Language:‎ English
ISBN-10: 0-500-34366-7
ISBN-13: 9780500343661
---
The definitive monograph of the late Singapore-based Australian architect's practice, internationally admired for its "tropical modern" design and luxury resorts.

The late architect Kerry Hill designed buildings that whisper rather than scream. This beautifully illustrated book brings together a corpus of works from 1992 to the present, with an emphasis on the actively ongoing practice's recently completed works, including the celebrated Aman hotels and resorts in Tokyo, Kyoto, and outside Shanghai, as well as important large-scale buildings in Hill's hometown, Perth.

Kerry Hill was one of the masters of twentieth-century architecture, consistently designing restrained, cleverly conceived buildings that often blurred the boundaries of defined space with permeable screened walls surrounded by lush landscapes. His practice's sensitivity to local materials and construction is renowned, resulting in architecture with a lightness of touch that sits perfectly in its environment.

With recent projects such as the Amanyangyun hotel in China, the practice has explored restoration, moving ancient trees and houses 435 miles to be meticulously reassembled and updated with modern-day touches, creating a series of historic villas set in bamboo groves. The Aman Kyoto resort, meanwhile, reimagined a forest landscape initially slated as the garden for a textile museum as the setting for a twenty-six- suite contemporary ryokan, or traditional Japanese inn.

Documenting in detail more than fifty projects across Australia and Asia, this is a comprehensive monograph of one of the most refined and respected architects of his generation.

Kerry Hill (1943–2018) was born in Perth, Western Australia, where he trained as an architect. He left Australia for Hong Kong in the early 1970s, before founding his studio in Singapore in 1979. Known for his sensitive and elegant work for the hospitality industry, he also designed the city library and State Theatre Centre in his hometown, as well as a number of exceptional private residences. Hill was awarded the Australian Institute of Architects Gold Medal in 2006

Geoffrey London is the Winthrop Professor of architecture at the University of Western Australia.
資料來源:
上博圖書-建築人.設計人的店
https://archbooks.com.tw/
---